AIT Austrian Institute of Technology
The AIT Austrian Institute of Technology is Austria's largest non-university research institute. With its seven Centers, AIT regards itself as a highly specialised research and development partner for industry. Its researchers focus on the key infrastructure issues of the future: Energy, Health & Bioresources, Digital Safety & Security, Vision, Automation & Control, Low-Emission Transport, Technology Experience and Innovation Systems & Policy. Throughout the whole of Austria – in particular at the main locations Vienna Giefinggasse, Seibersdorf, Wiener Neustadt, Ranshofen and Leoben – around 1,400 employees carry out research on the development of those tools, technologies and solutions that will keep Austria's economy fit for the future in line with our motto "Tomorrow Today".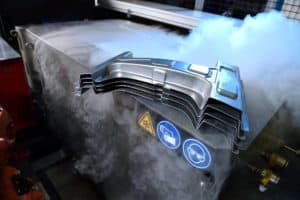 Center for Low-Emission Transport
Mobility is a core pillar of human society and therefore a central factor in our economic system. At the AIT Center for Low-Emission Transport, around 150 experts are working on solutions for sustainable, safe, intelligent and thus future-proof mobility. The focus of the research and development work is on material-based lightweight design, on the electrification of the propulsion train and the storage of electrical energy, as well as on a resilient and safe transport infrastructure. This also includes environmentally compatible and intelligent production technologies for mobility components. Comprehensive system know-how, scientific excellence, state-of-the-art laboratory infrastructure and many years of international experience enable AIT experts to drive innovations in the field of climate-friendly mobility and thus to serve industry and society already today with the solutions of tomorrow.
Reference Projects in the Aviation Sector
ICE GENESIS: Creating the next generation of 3D simulation means for aircraft icing
IMOTHEP: European aviation research and industry initiative on Hybrid Electric Propulsion
IMPACT: Aircraft advanced rear end and empennage optimisation enhanced by anti-ice coatings and devices
InSPIRe: Innovative Wing Ice Protection System for future Regional Aircraft
No-Ice-Rotor: Materials and manufacturing process for ultra-high reliability electric Anti-ice/De-ice thermal layers for high strain rotor blades and airframe sections
ORCHESTRA: Optimised Electric Network Architectures and Systems for More-Electric Aircraft
SNOWING: Exploring Realistic Snow Simulation for Aircraft Safety
SOLIFLY: Multifunctional aircraft components with integrated semi-solid state battery
SUSTAINair: Lightweight, multifunctional and intelligent airframe parts
TRIcEPS: Development of integrated engine air intake and protection systems for Tilt Rotor