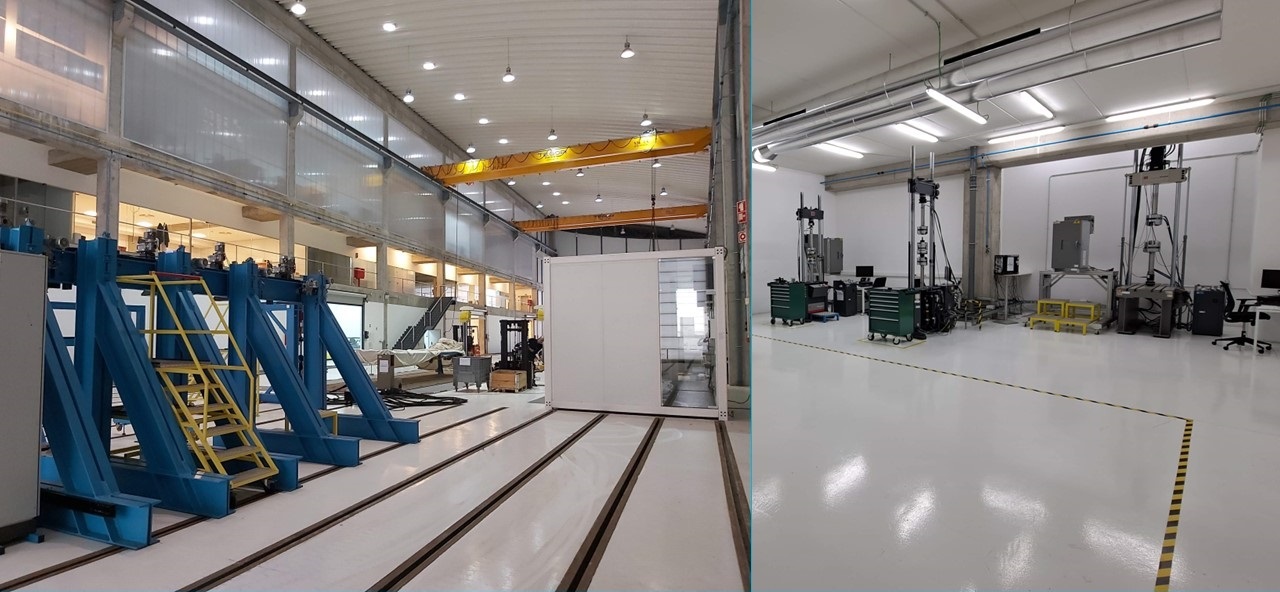 The Ceiia Test Center is a facility for carrying out structural, mechanical, climatic and materialographic tests.
It was used during Embraer's KC390 program for aeronautical certification testing of various components.
It has two main spaces for conducting tests:
– Aeronautical hangar, prepared to carry out structural tests specialized in full-scale and fatigue tests.
– Laboratory with controlled environment, to carry out mechanical tests on universal machines, climatic and materialographic tests.
The special characteristics of the test center allow tests to be carried out that cover the entire aeronautical test pyramid. Allowing small aircrafts full-scale tests, component and subcomponent tests. All of them with capability to develop, manufacture, and assembly the necessary rigs. Also, coupon tests and structural details (joints, adhesives,…), with the possibility of applying temperature during the test. Instrumentation capabilities includes installation of strain, displacement and acceleration sensors.
Main technical characteristics
Hangar:
Surface of 1800 square meters with 450 square meters of reinforced floor
Two 10T overhead cranes – 12 meters height
Adjustable hydraulic hardline to tests specifications
Hydraulic actuators with 25, 50 and 100 kN of capability, and stroke range until 260 mm
MTS FlexTest 200 and FlexDAC 20 equipment
Laboratory:
Mechanical Tests:

3 servo-hydraulic UTM: 50, 100, 250 kN
250 kN UTM with second load train position and T-slots steel table for complex setups
Environmental chambers for integrating on UTMs allowing tests from -130 to 315ºC
Several fixtures to carry out tension, compression, shear, 3-point bending, pull-out, pull-thorough, bearing, fracture according to standards

Envirommental Tests:

Climatic chamber with 1000 l capacity from -75 to 180ºC
Climatic chamber with 500 l capacity from -20 to 180ºC
Corrosion chamber with 1000 l capacity up to +55ºC and humidity from 50 to 98%
Flammability chamber with 1000 l capacity for 12 flame classifications of materials

Materialographic

Cutting machine
Polishing machine
Vacuum impregnation unit
Ultrasonic cleaning
Chemical Hotte
Digital microscope
Mufla furnace, up to 1100ºC
Scales with density measuring kit

Non-Destructive

Ultrasound
Dye penetrant
Magnetic particles

Special equipment

Laser impact drop height machine for damage infliction
Lightning strike (External)
Armindo Torres
Research & Innovation Manager | Aeronautics & Defence
+351 935 905 697

CEiiA | Av. Dom Afonso Henriques, 1825. 4450-017 Matosinhos, Portugal
+351 220 164 800