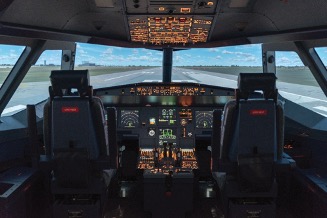 The INCAS Flight Simulation infrastructure consists of two state-of-the-art fixed flight simulators – B737 NG and Airbus A320.
Both flight simulators were built with replicas of real-life aircraft components in order achieve the most realistic cabin environment. These are accurate replicas of aircraft dynamics and flight systems and capable of certification up to FNPT II MCC, according to CS-FSTD (A) – Issue (EASA). Flight simulators are interoperable and can be easily connected to ATC facilities.
Flight simulators are composed of specific software and hardware that provide realistic images of the cabins. Flight simulation software includes several dedicated modules, such as the flight simulator core model, the design and implementation of flight control systems, and out-of-window imaging.
The software used for the INCAS flight simulators consists of realistic flight model features, MIP (Central Dashboard) images, display units, and CDU (Central Display Unit) features. The main source of constant motion is achieved with the help of visual systems, represented by elliptical projection areas, at 180 degrees, with three Full HD projectors.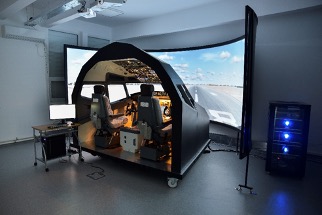 Each of the software modules is hosted on a separate computer in a network, communicating with cockpit displays, image-generating graphics cards, or control systems. Each flight simulation system is controlled by four computers, three of which are mounted in a rack (two computers for avionics and one computer for the visual system) and the fourth being the computer of the operating station instructor.
The main objective of the simulators is to compare a series of indicators related to altitude, pilot response, take-off and landing performance, handling aerodynamic characteristics or physical geometry of the aircraft in real time, weather, failures and performance optimization, flight characteristics, maneuverability control, lowering the operating cost.
The components of the laboratory are the Boeing 737 NG and Airbus A320 flight simulators, 1: 1 scale replicas of aircraft cabins, with the ability to artificially recreate flight scenarios and various aspects of the flight environment, including the mathematical model that governs the movement of vehicles, the reaction of the aircraft to various commands made by the pilot, the Instructor station, etc.
B-dul Iuliu Maniu no. 220, sect 6
Bucharest
061126
Romania
+40-21-434.00.83
+40-21-434.00.82