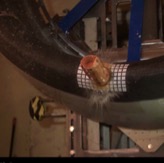 Two pneumatic cannons that are used for impact tests. The pneumatic cannon is used to test the strength of structural elements in crash tests with objects moving in relation to them at high speeds. The cannons allow to shot objects, most often bird analogue gel projectiles, using the energy of compressed air stored in pressure tanks ("Bird Strike").
Main technical characteristics
200MM PNEUMATIC CANNON FOR IMPACT TESTS
The cannon is used to test objects in Crash tests, (high-speed impact tests) – e.g. material specimens and aircraft structures or their components, e.g. floor panels, engine inlets.
Specification of the stand:
Velocity up to 200 m/s (for 0.3 kg projectile mass).
Test object diameter up to 200 mm.
Projectile mass up to 5 kg.
Remote firing.
Compact design for working outside the laboratory.
Data acquisition and measurement system.
Phantom VEO 410L high-speed camera with tracking using TEMA Motion software.
DPZ-250 PNEUMATIC CANNON
Device parameters:
Maximum operating pressure 15 bar.
The inner diameter of the barrel (caliber) 250 mm. Barrel length 8 m.
Maximum throwing projectile speed 310 m/s (bullet weight 1 kg).
Maximum projectile weight 15 kg (speed 230 m/s).
Scope of services:
Measurement of the velocity of thrown bullets using an optical gate or a high-speed camera (accuracy ± 3%).
Tensometric measurements at a frequency of 200kHz / 16 channels in a quarter, half or full bridge configuration.
Strain gauge measurements (quarter, half or full bridge system) and other physical quantities, e.g. force, pressure, acceleration – up to 64 channels with sampling frequency up to 200 kHz.
Preparation of gelatin bullets and more, weighing 1 kg, 1.81 kg, 3.63 kg according to ASTM F330 standard. Preparation of sabots.
Non-destructive testing. FEM simulations of crash tests.
Possibility to use additional high-speed cameras.
Łukasiewicz Research Network – Institute of Aviation
al. Krakowska 110/114
02-256 Warsaw, Poland
central: (+48) 22 846 00 11
fax: (+48) 22 846 44 32
e-mail: ilot[at]ilot.lukasiewicz.gov.pl
KRS 0000862006, NIP 1070046338, PL 1070046338, Regon: 387193275
Bank PKO SA
90 1240 6247 1111 0000 4977 2760
Directions to the bus stop "Instytut Lotnictwa"
by tram: 7, 9, 15
by bus: 141, 154, 317, N38, N88