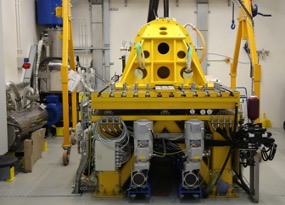 Test Rig #1 is equipped with electric motor, pneumatic system, lubrication system. Main control system build base on NI components. Rig capability allow to test components like: bearings, heat exchangers, scoops, sumps, gear boxes, oil and air systems and others.
Main technical characteristics
Test Rig#1:
Electric motor: 150 kW (200 HP), 20,000 rpm (max 22,000 rpm);
Gearbox multiplicating the speed to 50,000 rpm;
Lubrication Oil Pump:
120 lpm (30 gpm) @ 40 bar (580 psi), 4 separate supply lines, Max 150ºC (300ºF), 6 separated scavenge lines with possible underpressure.
Pneumatics:
2 kg/s (2 lbm/s) of air, Pressure 8 bar, Heated up to 550ºC (1000ºF)
Load system:
Pressure up to 210 bar (3050 psi), 4 hydraulic cylinders simultaneously, Force up to 100 kN (22 klbf), Stroke 100 mm (4 inch)
Main Control System (MCS):
National Instruments HW (PXI + cRIO), Temp's, flows, pressures, speeds, vibes, strains, Sampling freq 25 kHz, Manual & automatic mode
Mounting plate 2×1.5 m (80×60 inch).
Łukasiewicz Research Network – Institute of Aviation
al. Krakowska 110/114
02-256 Warsaw, Poland
central: (+48) 22 846 00 11
fax: (+48) 22 846 44 32
e-mail: ilot[at]ilot.lukasiewicz.gov.pl
KRS 0000862006, NIP 1070046338, PL 1070046338, Regon: 387193275
Bank PKO SA
90 1240 6247 1111 0000 4977 2760
Directions to the bus stop "Instytut Lotnictwa"
by tram: 7, 9, 15
by bus: 141, 154, 317, N38, N88